Gas Piping Installation and Repair in Torrance
Clear All Rooter is Your Top Rated Local® Plumbing Company
Don't Wait Until it's Too Late to Fix or Install Gas Piping
When the weather cools down throughout Southern California, many people may fire up their heating systems. Before you do so, it's important to know if your gas piping is working properly. The plumbing experts at Clear All Rooter in Torrance can help. We can fix your gas piping issues or install new piping for your residential or commercial building. Call us today to schedule an appointment!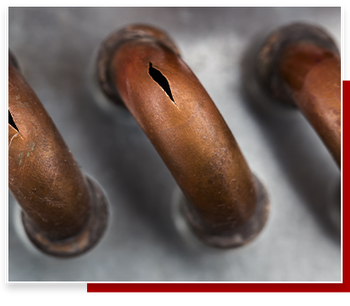 Benefits of Gas Piping:
A more natural way to power a wide range of appliances

Not affected when the power goes out

Saves money

Environmentally friendly

Reduce total greenhouse gases and pollution
Emergency Gas Pipe Service
Clear All Rooter is available any time to provide emergency gas piping service or re-piping service. If your house has a gas leak, fast service is of the essence. Natural gas is deadly if inhaled. In addition, electronic devices in your house can create sparks that ignite the gas, which could cause your house to explode. Natural gas has a compound added to it called t-butyl mercaptan, which gives it a foul smell similar to rotting vegetables. If you detect such an odor, get out of your house immediately... then call us!
Gas Piping Experts
When most people think of plumbing, they think of toilets, sinks, and other running water systems. But did you know that plumbers also work on heating systems? At Clear All Rooter, we install, repair and maintain gas pipes to keep your house warm while providing heat to your oven, stove or water heater. Since 2005, we've been providing insured and licensed gas piping service. Most commonly made from black steel, pipes that carry gas are generally steel, copper or brass. Clear All Rooter is well-versed in working with a variety of materials in gas piping. Call us for a quote on fixing or installing gas pipes in your area.
Save Money With Cost-Effective Gas Piping Repairs
If your pipes aren't installed or maintained properly, they could be wasting money. You could be running up your gas bill without even realizing it! If you feel your gas bill is too high, call us for a free consultation. The gas professionals at Clear All Rooter will be able to spot opportunities to help you save on gas.
If you have a gas leak, fast service can mean the difference between life and death. If you have emergency gas piping needs, please call Clear All Rooter as soon as possible.
Latest Tools
Clear All Rooter stays on top of all the latest developments in drain cleaning technology. New drain cleaning tools are being released seemingly every day, and they help us do the most efficient and cost-effective job possible.
Years of Experience
Clear All Rooter has been in business since 2005, so we've seen it all. And with our years of experience, we know all the ins and outs of drain cleaning. When you contact us, get ready to benefit from the knowledge that comes with our years of experience.
Whether you've got a clog in your toilet, sink, bathtub or washing machine, Clear All Rooter can help. Let us put our knowledge, experience, and cutting edge tools to work for you. Call for a free estimate today!